Organize your home, your tasks, your life.
"Muffy can give you your own personal closet makeover. In three two-hour sessions, Muffy guided me to 6 essential wardrobe purchases...and I haven't wondered what to wear since. My wardrobe just works." - Kate, Ontario, Canada

Closet /Wardrobe editing:

I will go through your wardrobe piece by piece. Some pieces stay and some go, ultimately revealing your personal style. Next is the fun part - getting creative. The jelly to the PB&J, the cherry to the sundae, clearly I am hungry! A new and fresh wardrobe will be created from your existing lineup - mixing and matching until it is just right. My goal is to recreate great looks from what you already own. Leaving a closet that is 100% ready to wear and you excited to get dressed! I handle the donations and consignments - you can make money from what you no longer wear. (Some new pieces are likely required, that info is the next section.)

Shopping - as needed. I create a detailed list and visual boards of the pieces that will supplement what you own.

We can shop together - I will select items and have a fitting room ready for you.
You can shop from the comfort of home with a detailed list & links of what to buy from where (and I will manage the returns.)
If you have no time, I can do it for you.

All projects are unique and completely customized. Contact muffy.l.white@gmail.com for personalized quote.
"Do it. Best thing I have ever gifted to myself! Bold, blunt and honest. Exactly what I needed! And the laughs... I can't wait to see what Muffy adds to my wardrobe!!" - Helen, Andover, MA
Muffy White 917.743.0056 muffy.l.white@gmail.com
Powered by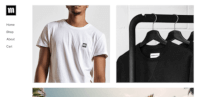 Create your own unique website with customizable templates.