I used to skip Saturday morning cartoons to rearrange my bedroom.
It started early. My dolls' clothes weren't just neatly hung in a miniature wardrobe, but organized by color. I arranged the canned goods in my mom's kitchen alphabetically. And yes, my college roommates nicknamed me "Martha". Friends and family have always relied on my eye, energy and love of organizing to keep them in fashion and in order. A business was eventually born from my quirky passions including my love for the environment. I focus on minimalism, reusing and recycling.
---
I am an ORGANIZER, PHOTOGRAPHER, MOTHER, SKIER, CAPS LOCK USER, AND AM CHANGING EVERY DAY.

At MWOS:
I offer services to simplify, streamline and refresh your lifestyle and home so you can focus on the important things.
I live and work on the coast north of Boston, Massachusetts. I help my clients to edit their homes and hone their styles.

My business is born from being resourceful and creative.
I do not like waste. I love beauty.
My goal is to make space for what matters most.
What matters most to you?

CLOSE YOUR EYES.
I MEAN IT!
IMAGINE THIS:

In your closet:
Everything is on a hanger, right side out, facing the same direction, organized by type, color and season. It looks like a boutique. Now brace yourself, IMAGINE that not only do you like everything you see...you know how to wear it, when to wear and YOU actually wear it all!

In your house:
You know where (insert any object) ____ is. There is a simple plan for keeping things in order. Cleaning up is a breeze because everything has a place (and there is not too much of anything).

THESE DREAMS CAN BE YOUR REALITY,
with a little love and time from MWOS!




Muffy White 917.743.0056 muffy.l.white@gmail.com
Powered by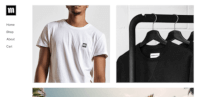 Create your own unique website with customizable templates.